This fruit puree is a natural health food, sweetened only by the fruit's own sugar.
Prunes are carefully selected to ensure that the taste of our prune puree is always perfectly balanced.
No sugar or preservatives are added.
They can be eaten like jam, and are also easy to add to desserts, ice cream and pastries.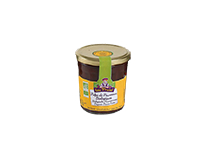 335g
Preservation

Best Before Date : 36 months.

After opening : 15 days in the refrigerator.